South Jersey Truck Accident Attrorney
Request a Free Consultation
Transportation experts sometimes describe New Jersey as the crossroads for the domestic freight industry in the Northeast. An estimated 75% of the state's 600 million tons of goods transported each year move through New Jersey as a doorway to the rest of the world. But with the already congested streets and highways of South Jersey crowded with large commercial trucks, accidents are inevitable. The Institute for Safer Trucking (IST) reports an alarming 50% increase in truck accident fatalities in New Jersey in the past decade. When an 80,000-pound commercial truck collides with a 4,000-pound passenger car, the results can be catastrophic.
When someone is seriously injured in a truck accident, the medical bills keep coming in at the same time they're unable to return to work due to their grave injuries. In all too many cases, truck accident claims become wrongful death claims.
The South Jersey accident attorneys at Grungo Law have deep compassion for the catastrophic injuries suffered by truck accident victims. Let us be your skilled advocates against powerful truck companies and their insurers who rarely write out large checks willingly.
What Can a South Jersey Truck Accident Attorney From Grungo Law Do for Me?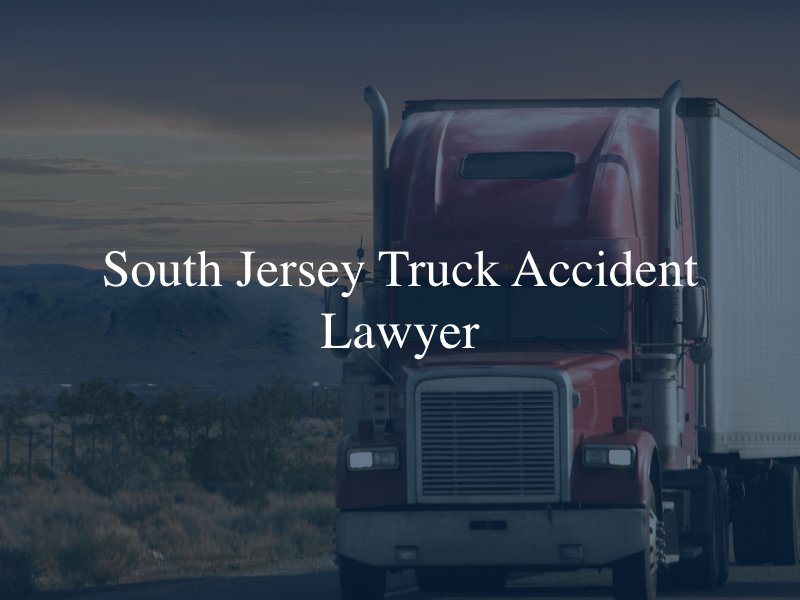 If you or a loved one sustained injuries in a commercial truck accident in South Jersey, it's likely that you've suffered life-altering consequences. It may feel overwhelming to take on the legal system in an insurance claim or lawsuit while you're still suffering from painful and/or debilitating injuries. A truck accident attorney from Grungo Law is your best ally. Your lawyer will advocate for you through every step of the process by doing the following:
Review evidence at the accident scene, the police report, photos, videos, and eyewitness testimony to thoroughly investigate the unique circumstances of your truck accident to determine the cause and identify the liable party
Prove the legal points of liability on the part of the person or business entity at fault
Carefully calculate your damages including non-economic damages like pain and suffering as well as medical costs and other economic damages
Send an evidence-backed demand package to the appropriate insurance company
Strongly negotiate with the insurance company to secure an ample settlement for your damages
File a lawsuit in court within the state's 2-year statute of limitations in the event that the insurance company fails to offer a fair settlement
No one should go it alone when seeking compensation after a truck accident. Trucking companies and their insurers often take advantage of injury victims during their most vulnerable moments in order to protect their own profits. 
Common Causes of Truck Accidents in South Jersey
Trucks are large and unwieldy. They have slow stopping times and make wide turns. Drivers also have limited fields of vision and large blind spots. Common causes of truck accidents include:
Distracted driving
Intoxicated driving
Fatigued driving
Unsafe lane changes
Unbalanced loads
Inadequate truck maintenance
Speeding
Failing to adjust speed for inclement weather
Truck company negligent hiring practices
A truck's electronic logging device (ELD) can be a key piece of evidence in truck accident claims by recording important data like the number of hours or miles logged by the driver, the truck's speed at the time of the accident, whether or not brakes were applied, and truck maintenance records. It often takes a skilled South Jersey injury attorney to gain access to this data since trucking companies don't readily release it.
Proving Liability in South Jersey Truck Accident Claims
Determining liability for a truck accident takes a skilled investigator with resources and knowledge in this specialized area. While it may seem as though the truck driver is the obvious liable party, that's not always the case. Depending on the circumstances of the accident, potential liable parties could be any of the following:
The truck driver if they are an independent contractor
The trucking company
A truck maintenance company
A truck part manufacturer
A freight-loading company
A third-party driver
Once your truck accident lawyer from Grungo Law determines the liable party, they'll gather evidence to demonstrate liability through the following legal points:
The at-fault party owed a duty of care to take reasonable measures to prevent injury to others on the road, such as a driver's duty to avoid distractions or a trucking company's duty to ensure their drivers aren't logging more than the legally allowed hours
The party at fault breached their duty of care through negligence
The negligent breach directly caused the victim's injury
The injury victim sustained significant damages from the injury
Once your South Jersey truck accident lawyer has compelling evidence, they'll begin negotiating with the insurance company for the maximum compensation for your damages.
What Compensation Can I Recover for Truck Accident Damages?
Truck accidents cause extensive property damage and dire injuries to those in smaller vehicles. If you or your loved one were hurt in a truck accident, your settlement or judgment could include compensation for damages such as:
Property damage
Medical expenses
Future medical expenses if you need further treatment, physical therapy, or home health aid
Lost income
Future lost wages
Diminished earning capacity if the accident caused total or partial disability
Pain and suffering
Non-economic damages like PTSD, depression, anxiety, or loss of pleasure in life
Damages in truck accidents are among the most expensive and troubling. Though monetary compensation can't erase the injury it can help put victims on the road to maximizing their recovery while relieving financial burdens.
If there has been a death as a result of a truck accident, don't hesitate to contact a wrongful death lawyer in South Jersey as soon as possible.
Reach Out to a South Jersey Truck Accident Attorney Today
Sadly, commercial trucking companies have insurance policies through powerful insurers who don't have your best interests at heart. A South Jersey truck accident lawyer from Grungo Law holds your best interests as their highest priority. We understand the tactics used by insurance companies to undervalue claims to save their profits. Sometimes they deny claims completely or attempt to assign blame for an accident on accident victims who were not at fault. Truck accident victims need skilled, experienced representation. At Grungo Law, we have a track record of success in recovering the maximum compensation for our injured clients.
Contact our South Jersey law office today for a free case evaluation so we can begin a strong strategy for your compensation.