Cherry Hill Personal Injury Attorney
Request a Free Consultation
It is never a good time for an injury or accident. Whether you are a busy mother, a business owner, or a retiree, an unforeseen injury will disrupt your life. When you find yourself in such a situation, turn to a trusted local lawyer with the knowledge and experience to find you or a loved one the compensation you deserve.
An experienced Cherry Hill personal injury lawyer at our law firm can guide you through the maze of rules and statutes that govern injury law. Let an experienced attorney deal with the paperwork and the insurance companies while you recover and settle back into your daily routine.
Why Choose Cherry Hill Personal Injury Lawyer From Grungo?
The personal injury attorneys at Grungo Law have deep compassion and a strong commitment to our injured clients. We defend your rights and fight for your best interests through every stage of the injury claim process, using both the latest technology and time-honored advocacy methods. Our track record of success in helping our injured clients gain the compensation they deserve puts a powerful voice behind your unique case.
A Cherry Hill personal injury lawyer from our law firm provides personalized attention to every claim. Your experienced attorney will maximize your chance of fully recovering damages by doing the following:
Investigating all aspects of your injury to determine the liable party
Gather evidence and testimony to prove liability in South Jersey
Carefully calculate and document your damages to maximize the amount you'll recover
Send a demand package to the appropriate insurance company to begin negotiating a settlement
Negotiate from an evidence-based position of strength to obtain the maximum possible settlement for your claim
File a lawsuit in court from our law office within the state's statute of limitations if we're unable to gain an ample settlement amount on your claim
Obtain a healthy attorney-client relationship and vigorously defend your right to compensation in a court of law to secure a jury award for your damages
If you've been injured and have medical bills coming in at the same time you've missed work because of your injury and recovery, an attorney from our personal injury law firm is your best ally. We will carefully evaluate your options, and document your losses to maximize your compensation, diligently prepare and file all legal claims, and let our law firm vigorously pursue your compensation.
Types of Cherry Hill Injury Cases We Handle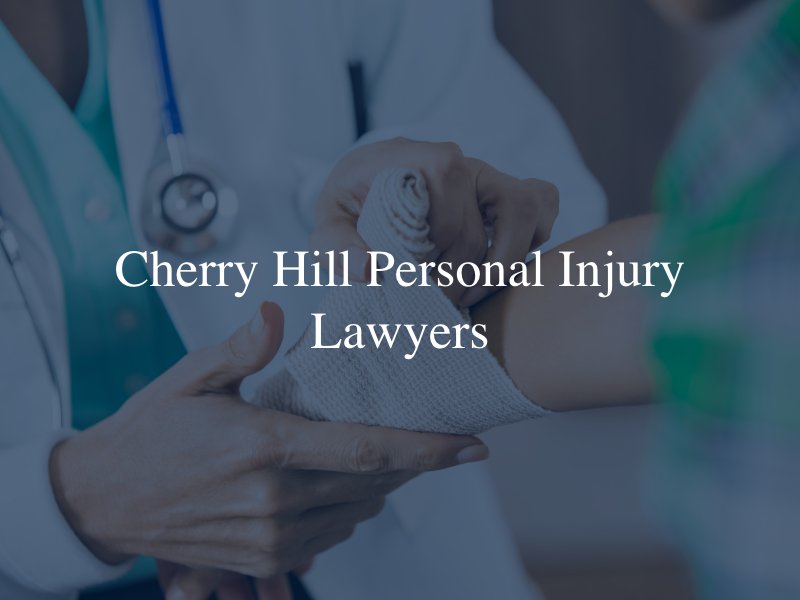 At the law offices of Grungo Law, we understand the serious implications of an injury that requires substantial medical care and time away from work. We have deep compassion for those who experience the worst injuries with catastrophic, life-altering impacts. At Grungo, we represent South Jersey clients who've suffered:
Motor vehicle accidents cause the greatest number of personal injury claims, but any of the following may result in an injury deserving of compensation and damages:
Car accidents
Drunk driving accidents
Spinal cord injuries
Catastrophic injury
Reckless and negligent acts of others
Nursing home abuse/neglect
Workplace accidents
Bus accidents
Bicycle accidents
Pedestrian accidents
Construction site accidents
If you've been harmed at the hands of someone else due to their negligence, reckless behavior, or purposeful wrongdoing, you shouldn't be left wondering how to stay afloat financially. A successful car accident lawyer in Cherry Hill can relieve financial worries so you can focus on your physical recovery. Our car accident lawyers are here for you in your times of trouble.
Cherry Hill Statute Of Limitations On Personal Injury Claims
Like all states, New Jersey limits the amount of time victims have after an injury to file a lawsuit for damages. The statute of limitations for personal injury claims in New Jersey is two years from the date of the injury. This limit ensures that evidence and testimony remain fresh and available should a case come to court. While the vast majority of personal injury claims settle out of court, an injury victim must file a lawsuit within the two-year statute of limitations to file a lawsuit in court if both sides can't negotiate a mutually acceptable settlement.
In certain circumstances, the state can extend the statute of limitations; for instance, for an underage victim, the two-year time limit begins from the date of their 18th birthday. If an injury victim isn't aware that they were injured until later—for example, if a doctor diagnoses a nagging backache as an accident-related ruptured disc—the two-year statute of limitations begins on the date of their diagnosis.
What Qualifies As A Personal Injury In Cherry Hill?
Civil courts exist to offer a means of redress for many types of "injuries" with resulting damages. In legal terms, "injury" is any type of harm caused to one person by the acts of another, including property damage, the breach of a contract, or a damaged reputation. When the injury is physical harm caused to the person, it's a personal injury—or an injury to one's person. If the negligence or wrongdoing of one person causes a serious physical injury to another, they can seek compensation for the resulting economic and non-economic damages. If there was a death involved, please reach out to our Cherry Hill wrongful death lawyers today. 
Cherry Hill Personal Injury Can Be Complex
Personal injury cases cover a broad range of accidents, rules, and results. While all personal injury cases share some general characteristics, each case is unique and requires individual consideration. In order to obtain the best possible settlement, attention to the specific details of your case is needed.
There are several statutes that cover personal injuries depending on the facts of what happened, where, and by whom:
Premises liability – Slip and falls and other property-related injuries
Workers' compensation – Accidents that occur in the workplace
Medical malpractice – Injuries as a result of negligent medical care
There are laws that dictate the time you have to file a claim, too. These are called the statutes of limitations.
In New Jersey, N.J.S.A. §2A:14-2 places a strict limit of two years on any personal injury claim, however, there are certain exceptions which may toll the statute of limitations. Filing a claim too late will result in dismissal, which is why it is so important to talk to a personal injury lawyer in Cherry Hill as soon as possible after an accident.
What If I Am Partially At Fault For My Cherry Hill Injury?
New Jersey is a "shared fault" state where a modified comparative negligence rule is applied to personal injury cases. This means that when a person is injured due to another's negligence or recklessness if the facts show that the injured party shared some of the blame, any damages can be reduced.
For example, a shopper claiming a slip-and-fall injury may inadvertently make a statement that she was rushing through the store. If a jury holds the shopper 15 percent at fault for her carelessness and grants her $25,000 in damages, the amount of the award would be reduced by 15 percent or $3,750.
The modified comparative negligence rule is a precedential rule and courts are bound to abide by it even if the injured party does not agree. If the injured party is found to be more than 50 percent at fault, there may be no award of damages. Insurance adjusters look for ways to lay blame on the injured party in order to reduce settlements. The best defense against this tactic is to work with a personal injury lawyer who will fight for your rights vigorously.
Proving Liability in a Cherry Hill Personal Injury Case
In order to recover damages in a personal injury case, the injury victim bears the burden of proving the at-fault party liable for their damages. This requires showing the other party's fault in the accident that caused their injury and meeting the legal points of liability including:
Showing that the at-fault party owed a duty of care to keep you and others safe through reasonable measures such as a driver's duty to obey traffic laws and a store owner's duty to mop up spills to prevent a fall
That the at-fault party breached this duty by acting negligently, recklessly, or wrongfully
That the negligent breach directly led to your injury
That your injury has caused you to suffer damages, including economic and non-economic damages
When your personal injury claim meets the above criteria showing liability on the part of the person or entity responsible for your preventable injury, your personal injury attorney from the law offices Grungo Law can make a compelling legal case for your full compensation. Not only will we investigate all aspects of your claim to prove liability and to calculate your damages, but we will also aggressively pursue your best interests through a strong demand letter to the appropriate insurance company, throughout negotiations for a settlement, and through courtroom litigation in the rare case that it becomes necessary.
Will I Have To Go To Court For My Cherry Hill Personal Injury Claim?
Over 93% of personal injury claims settle out of court when a skilled attorney gathers evidence of liability and negotiates with the insurance company from a position of strength. Only in the unlikely event that an insurance company denies your valid claim or seriously underestimates it will the case progress to a lawsuit in court when filed within the state's statute of limitations for personal injury lawsuits. In this case, your Cherry Hill personal injury lawyer from Grungo Law is ready to argue aggressively for your rights and represent your best interests in court.
What Should I Do If I've Been Injured By Someone Else?
It can be challenging to think clearly after suffering a painful injury and in some cases you may be too hurt to do anything other than wait for help. But if you are able to use your phone or hand it to someone else to use for you, gathering photos and information can greatly help your later financial recovery. Use your phone for the following:
First, call 911 to report your accident no matter how it occurred
Use your phone camera to take photos of the accident, any involved factors like a broken floor tile, angry dog, or crashed vehicle
Photograph your visible injuries
Collect the contact information of eyewitnesses or any other involved parties
Once emergency services arrive, accept transport to a hospital and undergo an evaluation. Be sure to ask for a detailed medical report
Ask for a copy of the accident report
Save all medical bills
Call the personal injury lawyers at Grungo Law of Cherry Hill
What Damages Can I Recover in a Cherry Hill Personal Injury Case?
Serious injuries can have costs that quickly escalate. Medical treatments, in-hospital procedures, and surgeries are costly and cause time away from work. Even relatively minor injuries can impact your ability to pay your bills; for instance, a broken ankle may make your job as a server in a busy restaurant impossible. A successful personal injury case holds the party at fault liable so their insurance company compensates you for damages such as:
Medical bills
Any future medical costs for ongoing care or treatment
Lost wages and future lost wages
Lowered capacity for future earnings if your injury caused a disability
Pain and suffering
Other appropriate non-economic damages that may apply such as disfigurement, loss of limb, emotional trauma, and loss of pleasure in life
While financial compensation cannot erase an injury or take away your pain, it can open doors to further medical treatment to maximize your recovery while also relieving your financial burdens.
What Are Punitive Damages In A Personal Injury Case?
Awards for punitive damages are very rare in New Jersey. Unlike compensation for damages which serves to help injury victims recover what they've lost due to someone else's action or inaction, punitive damages are meant as a punishment to the wrongdoer and a deterrent to future repeats of the behavior. Many states allow injury victims to pursue punitive damages if the behavior that caused the injury was particularly egregious. New Jersey doesn't allow punitive damages awards for any type of negligence, which makes up the majority of personal injury claims.
To claim punitive damages in a Cherry Hill personal injury case requires proving that the defendant acted with willful malice and wanton disregard for the safety of others, or that their action was intentional and malicious. New Jersey courts also consider the length of time the egregious conduct continued, whether or not it continued after the defendant was aware that it was causing harm, and whether or not the defendant attempted to cover up the egregious action.
If an injury victim's case warrants an award for punitive damages, the court caps the available amount at $350,000 or 5 times the amount of the victim's compensation—whichever is higher.
Contact A Cherry Hill Personal Injury Attorney
The two-year statute of limitations on a personal injury claim starts running as soon as the injury occurs. You must call a skilled Cherry Hill personal injury lawyer immediately after your accident. This will ensure that the facts and your recollection of the incident are fresh when you speak with your lawyer.
Do not fight the insurance companies alone. Consult with a legal team who will serve as your ally to achieve the best possible outcome to mitigate the long-term effects of any personal injury.