Grungo Law Holiday Bikes For Kids
Request a Free Consultation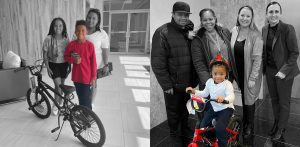 Grungo Law is hosting Holiday Bikes for Kids in addition to our annual Summer Bike for Kids. We love giving back to the community, especially to kids who deserve to be rewarded for their hard work. We want to receive nominations for kids who are in need or deserve to receive a new bike. If you know a child who works hard in school, maybe someone going through a difficult time, or just any kid you think would benefit from a bike, please submit a nomination.
This is a bike giveaway for any child, no matter the holiday they celebrate. Whether it be Kwanzaa, Hanukkah, Christmas, Ōmisoka, etc., we will give away two brand-new bikes to deserving kids in our community. We are again asking local community members to nominate children deserving of this giveaway to help us choose the winners!
Fill out our nomination form and tell us your nominee's story and why they deserve to win a brand-new bike. The deadline to nominate is December 1, 2023!
Entry
"*" indicates required fields