Cherry Hill Car Accident Lawyer
Request a Free Consultation
Car accidents occur with great frequency across the country. While serious accidents are not as common, fender benders and small traffic violations are routine during a morning commute, for example. However, even a small fender bender can result in a huge pain in the neck, both literally and figuratively.
If you were injured in a crash or your vehicle retained damage, it is important to assess the situation with a clear head, immediately seek medical attention, and notify the police so that a formal police report can be documented as soon as possible. Even before the police arrive, try to get contact information from witnesses and gather evidence like photographs.
After that is accomplished, it is vitally important to contact a Cherry Hill car accident lawyer as quickly as possible so they can evaluate your situation and help you fight for the compensation you deserve. An experienced personal injury attorney in Cherry Hill can advise you on what to expect at each step of the process and ensure your claim is as strong as possible.
Why Choose A Cherry Hill Car Accident Lawyer From Grungo Law?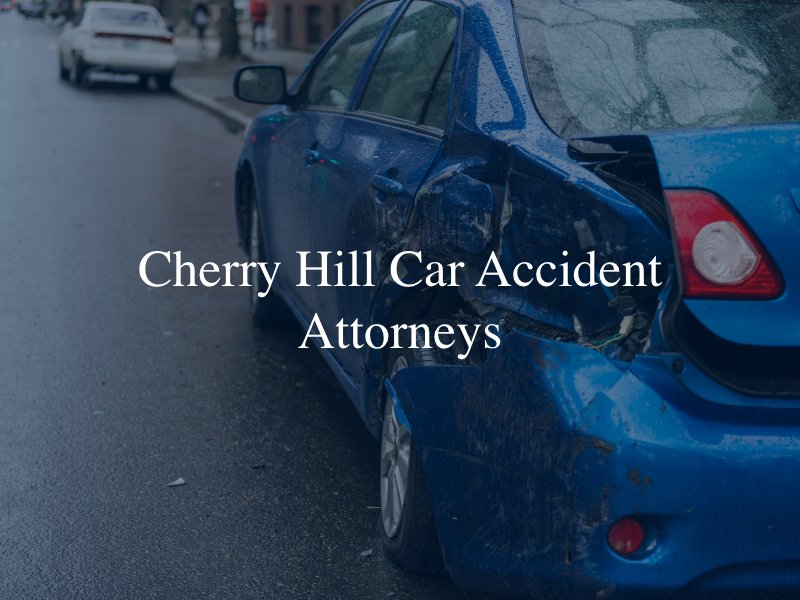 The Cherry Hill car accident attorneys at Grungo Law have a track record of success in advocating for our clients injured in New Jersey car accidents. With over $135 million in settlements and jury awards for our injured clients, we put a powerful voice behind your claim that benefits your best interests throughout the process.
At Grungo Law, we have deep compassion for clients experiencing the ripple effects of a car accident on all aspects of their lives. We want to hold the negligent driver accountable so you aren't left holding the bag. An experienced car accident attorney from Grungo Law will do the following:
Investigate your accident by examining the police report, eyewitness testimony, photos, the accident scene, and any available videos to determine the party at fault
Gather and document evidence of the at-fault driver's liability
Carefully calculate your damages including compensation for pain and suffering to maximize the payout on your claim
Send an evidence-backed demand letter to the appropriate insurance company
Negotiate from a position of strength with the insurance company to get the largest possible settlement for your damages
File a lawsuit in court within the state's statute of limitations in the unlikely event that the insurance company fails to offer an acceptable settlement amount
Defend your claim in court and argue aggressively for the maximum compensation in a jury award
Insurance companies are rarely on your side after an accident. Instead, they prioritize profits over paying out fairly on claims. Don't let the insurance companies take advantage while you're vulnerable. A seasoned car accident attorney is the best ally in a Cherry Hill car accident claim.
Cherry Hill Car Accident Statute Of Limitations
New Jersey places a statute of limitations on personal injury lawsuits including from car accident injuries. Accident victims in Cherry Hill have three years from the date of the car accident to file a lawsuit. This limit helps to ensure that evidence is still available and witness testimony remains fresh in the event that the claim progresses to a lawsuit in court. Most car accident claims settle out of court, especially with experienced representation from a knowledgeable car accident attorney from Grungo Law, but your attorney will ensure the timely filing of a lawsuit within the statute of limitations if necessary to secure your compensation.
Common Car Accidents In Cherry Hill
Many major highways intersect in New Jersey and daily commuters to nearby New York and Philadelphia cause traffic congestion in Cherry Hill and the surrounding area. Common car accidents include:
Rear-end collisions
Head-on collisions
Sideswipe accidents
Unsafe lane change accidents
Rollovers
T-bone accidents in intersections
Angle collisions
Collisions with commercial trucks
Any of the above accidents can result in injuries ranging from mild to catastrophic, depending on the speed of the vehicles upon collision and other factors. Car accident victims deserve diligent, individualized attention to their case to fully recover their financial losses while they focus on recovering from their physical injuries. 
Furthermore, if your accident involved a commercial vehicle, don't hesitate to contact our Cherry Hill truck accident attorneys today!
How To Determine Liability In A Cherry Hill Accident
In order to make a claim for damages from the party at fault in the accident, your Cherry Hill car accident lawyer must effectively demonstrate liability. This requires showing the following through careful documentation of the evidence:
That the at-fault party owed a duty of care to others on the road to take reasonable measures to prevent harm, such as avoiding distraction and following traffic laws
That they breached this duty by acting negligently or recklessly behind the wheel
That their breach of duty directly caused your injuries
That you've suffered economic damages from the injuries as well as pain and suffering
Once your attorney gathers and documents evidence of liability, they'll include it in a demand package sent to the insurance company of the liable party to compel them to pay out on your claim for damages.
Elements Of A Cherry Hill Car Crash Claim
If you feel that a car accident you have been in was caused due to the negligence of the other driver, there are certain things you or your Cherry Hill auto accident attorney will have to be able to prove in order to file a successful claim. You will have to show that the other driver breached their duty of reasonable care by being careless toward others on the road.
Everyone who drives has the duty to obey speed limits, maintain their lane, maintain repairs on their vehicle, and exhibit other behaviors that a reasonable, prudent person would have done in a similar circumstance.
A few examples of how a reasonable, prudent person would drive include:
Stopping at a stop sign
Watching for pedestrians
Maintaining a safe distance
Maintaining their lane
If the other driver failed in their duty in these or similar circumstances, it is important to seek counsel from a car accident attorney in Cherry Hill and start a civil claim as soon as possible.
New Jersey's No-Fault Accident Laws Can Impact Your Claim
Unlike fault-based insurance states, New Jersey has a no-fault system in place where drivers are required to carry Personal Injury Protection (PIP) insurance and file car accident claims against their own policies. However, these policies are limited in the amounts they'll pay out and do not allow you to pursue damages for pain and suffering.
Fortunately, a skilled car accident lawyer can investigate the terms of your policy and that of the person at fault for the accident to pursue the maximum in damages. In some cases, your insurance may have provisions allowing you to file a claim against the liable party for damages, including unlimited amounts for pain and suffering.
If your damages far exceed the limits of your own insurance policy, you can seek compensation from the insurance policy of the person or entity at fault through a skilled attorney with years of experience navigating New Jersey's complex insurance laws.
Common Injuries in Car Crashes in Cherry Hill
Car accident injuries are the most common personal injury claims in New Jersey and throughout the U.S. because the body sustains serious trauma in an accident. When the human body is forced to come to a sudden stop after hurtling ahead at high speeds, the jarring force alone can cause significant injuries. Contact with the interior elements of the car such as the dash, windows, and seats, becomes hazardous in the force of the crash. Even relatively minor injuries can require expensive medical care and lost work days as you recover. Serious injuries can cause financial strife for the whole family with mounting medical bills while you're unable to work. When someone else's negligence or reckless driving caused the car accident, you shouldn't be left with the damages.
When a crash occurs at high speed, the results can be grave, with life-altering impacts either temporarily or permanently. Some common injuries sustained in car accidents include:
Whiplash
Neck or back injury
Internal injuries
Fractures
Amputations
Whether your injuries are relatively minor or catastrophic, when your accident was caused by someone else's fault and you sustain significant financial losses, you deserve compensation. In the event that there was a death as a result of an accident, please speak to a wrongful death lawyer in Cherry Hill now. 
Steps To Take After A Car Accident In Cherry Hill
The immediate aftermath of a car accident is chaotic and frightening, especially if you've been seriously injured and aren't yet certain of the extent of your injuries. You may be able to do little to protect yourself other than wait in place for help to arrive, but if you can safely use your cell phone or ask someone else to use it for you while you wait, it becomes a critical tool to protect your physical and financial future. Your cell phone's camera can do the following:
Call 911 to report the car accident and request emergency services
Document the damages by taking photos of the accident scene, all involved vehicles, and any visible injuries
Save the contact information of other involved drivers and eyewitnesses to the accident
Record a brief statement of what you remember about the accident because trauma may cause the memory to fade later
Once at the hospital, be sure to tell the doctor about every symptom and ask for a detailed medical report. Follow all of your doctor's treatment recommendations and keep copies of your medical bills, receipts, and invoices. Obtain a copy of the police report and gather all documents to meet with a Cherry Hill car accident lawyer from Grungo before talking to insurance coverage representatives.
What Damages Can I Recover in a Cherry Hill Car Accident Claim?
Car accidents almost always come with property damage, but often that damage is of little concern compared to the quickly escalating costs of treating car crash injuries. You may require unpaid leave time while you're undergoing medical treatment and recovery. If you've suffered catastrophic injuries, you may be left unable to work in your previous capacity.
The Cherry Hill accident attorneys at Grungo Law can help you recover the following damages after a car accident:
Medical expenses
Future medical expenses if you require additional care
Lost earnings and future lost earnings
Diminished earning capacity if you've been left disabled due to the crash
Pain and suffering
Financial compensation can't fix everything, but it can help you to access the best medical care for your injury and pay your bills while you maximize your physical recovery.
Will I Have to Appear in Court for a Cherry Hill Car Accident Claim?
The vast majority of car accident claims are settled out of court through negotiations between your personal injury attorney and the appropriate insurance company. A thorough investigation into all aspects of the accident to prove liability and diligent calculations of your damages results in the attorneys at Grungo Law having a compelling case. Once we complete our investigation we will draft a strongly worded demand letter to the insurance company and begin negotiating the terms of a settlement. However, your full compensation is always our ultimate goal even if courtroom litigation is the only way to achieve it.
At Grungo Law, we will keep you informed through every stage of the process as we represent your rights and best interests. If you aren't happy with the terms of a proposed settlement, we are fully prepared to argue the matter in court. Our legal team has a strong track record of success in courtroom litigation.
Contact A herry Hill Car Accident Attorney
After a motor vehicle collision, the most important thing is that you are able to heal from your injuries and keep your quality of life. Let our team of Cherry Hill car accident lawyers at Grungo Law help. We will put our years of experience to work for you while you focus on your recovery. Call today to get started.