Cherry Hill Workers' Compensation Lawyer 
Request a Free Consultation
Workers' compensation is a system by which injured workers get benefits after an on-the-job injury. However, you cannot recover these benefits without going through the proper channels, and filing a claim. If you have sustained an injury while working and wish to file a claim, consider contacting a Cherry Hill workers' compensation lawyer. A knowledgeable attorney can attempt to work towards a fair outcome for you.
Why Choose a Workers' Compensation Lawyer In Cherry Hill From Us?
The attorneys at Grungo Law have been representing injured workers in Cherry Hill for many years with a track record of success in obtaining benefits for injured employees so they don't suffer financial hardship as well as their physical injuries. At Grungo Law, we offer the following advantages to your workers' compensation claim in New Jersey:
A Cherry Hill personal injury attorney who will investigate all aspects of your work injury to determine the best way forward for your compensation
Diligent paperwork with prompt filing to ensure the least possible disruption to your income
An advocate for your rights under New Jersey's workers' compensation laws and legal counsel and guidance throughout the process
Information about how the law applies to your case and whether or not you could choose a lawsuit based on negligence or a third-party lawsuit rather than a standard workers' compensation claim
No one should go it alone when so much is at stake. When you give your employer your best, you deserve the best possible compensation for a work injury.
Origins of Workers' Compensation Benefits In The United States
Workers' compensation is a law that was passed in the early 1900s when workers and management got together and came up with this concept that, if workers get injured on the job, their employers should be held responsible and help the injured person financially, while also helping the person receive medical treatment.
The deal was struck, and in exchange for the benefits that the employer provides, workers gave up their right to sue the employer. Workers' compensation is not a lawsuit of any sort. A workers' compensation claim is simply a claim for benefits and is available to anyone who is injured in the course and scope of their employment while they are working, and that is the basic concept of workers' compensation laws in Cherry Hill.
Causes of Workers' Compensation-Related Injuries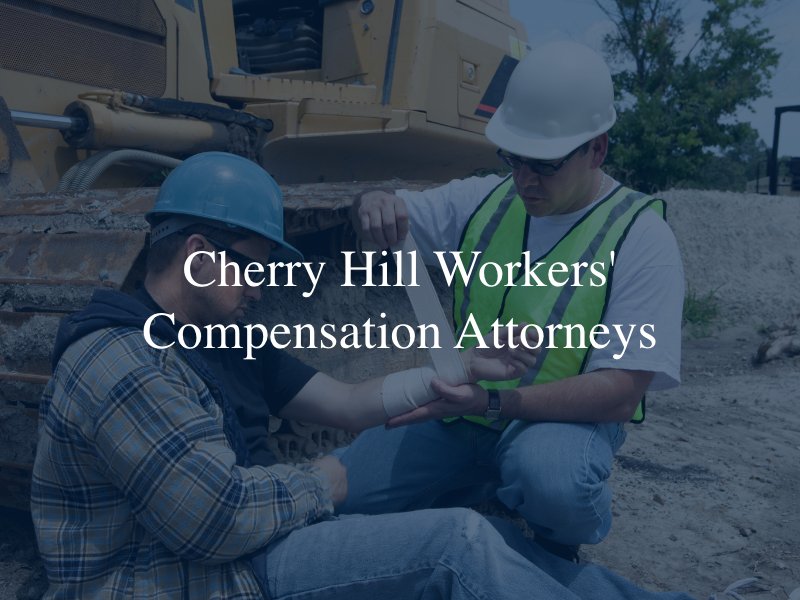 While some work sites have greater risks of injuries, such as construction sites, refineries, and warehouses, any workplace poses risks. Whether you broke a hip after tripping over a charging cord in an office or fell from an unsecured scaffolding on a construction site, you deserve compensation for medical expenses and lost income. Common causes of injuries in New Jersey workers' compensation claims include the following:
Falls from heights
Work-related car accidents
Falling object injuries
Work equipment injuries
Toxic exposures
Electric shocks
Lifting or carrying injuries
Caught between injuries from moving machinery
Fires
Explosions
Violence in the workplace
Many of these accidents result in serious injuries that leave employees unable to return to work while they recover or unable to return at all. A successful workers' compensation claim helps to bridge the income gap or provide disability benefits. If an employee suffers a fatal injury while on the job, the accident attorneys in Cherry Hill can help dependant family members apply for employee death benefits through workers' compensation or a wrongful death lawsuit.
Injuries Associated With Workers' Compensation
Even minor injuries can cause temporary financial hardship. Serious or grave workplace injuries can leave the victim and their family reeling, and wondering how they'll pay their bills. A successful workers' compensation claim in Cherry Hill provides benefits for those suffering from workplace injuries such as the following:
Back injuries
Neck injuries
Fractures
Burns
Illness from toxic exposures
Crush injuries
Traumatic limb loss
Soft tissue injuries
When these serious injuries occur while you're on the job, a workers' compensation attorney at Cherry Hill can ensure protection for your rights under the workers' compensation laws so you can focus on healing from your injury.
How To Prove Liability In A Cherry Hill Work Accident 
After an injury in the workplace, injured employees may wonder who has the burden of proving that a work-related injury occurred. Like all liability claims, a workers' compensation claim places the burden of proof on the injury victim. This requires the injured employee to demonstrate that they have a valid claim. Proving liability requires showing evidence of the following:
The employee suffered an injury
The injury occurred while the employee was at work or engaged in work activities while on the job
 That the employee has "damages" including medical costs and lost income while they are unable to return to work in their previous capacity or at all
In some cases, a third party might bear liability in a workplace accident. For example, a contractor, sub-contractor, property owner, a negligent driver, or the manufacturer of a defective work tool or product. If this is the case, a third-party liability claim may benefit the injury victim more than a workers' compensation claim since a lawsuit against a third party allows injury victims to seek compensation for pain and suffering. Compensation for non-economic damages like pain and suffering or disfigurement compensation isn't available in workers' compensation claims in New Jersey.
Difference between Workers' Compensation and Other Cases in Cherry Hill
Workers' compensation is different in the sense that it is not a lawsuit. In a lawsuit, such as if someone gets injured in a car accident, or a slip and fall, or is the victim of medical malpractice, those people file lawsuits against the individual or individuals who were negligent. In the car accident, if someone is injured, they will file a lawsuit against the driver who caused the accident.
In workers' compensation, there is no lawsuit and there is no consideration of negligence. It is a no-fault law. With only a few exceptions, it does not matter who causes the injury. It is as if the injury happened on the job, benefits are provided. It is the injured worker's status as an employee that triggers the claim.
Complexity of Workers' Compensation Claim Forms
Usually, when an injury occurs, the human resources department or the supervisor might be asked to fill out an incident report. It is not very complicated. They are not very uniform but in most places, they are just asking the injured employee what happened.
The form asks for the person's name, rank, serial and social security number, and for an account of the events that led to the injury. An experienced Cherry Hill workers' compensation lawyer can help individuals fill out the claim petition so the individual can pursue compensation.
How To File A Workers' Compensation Claim
Initially, the only thing a Cherry Hill workers' compensation lawyer can do is advise people of what their rights are, and make sure that the insurance company provides the benefits that they are supposed to provide.
Later, the attorney can file a claim petition which makes the claim formal and puts it into the workers' compensation court system. That is the Cherry Hill workers' compensation lawyer's function. An individual could also do it on their own and file an informal claim, but it is not advisable.
Benefits of a Cherry Hill Workers' Compensation Attorney
The best reason to contact a Cherry Hill workers' compensation attorney is that you may not have the same grasp of workers' compensation law that a professional does. An attorney can explain what you are entitled to and can work with you in an attempt to protect your rights and interests.
Injured workers often wonder what their rights are, what their responsibilities are and the best way to find out is to call a legal advocate who knows the answers to those questions. If you have been injured while at work and need help filing your workers' compensation claim, it is best to work with an experienced attorney who can fight for you.