Cherry Hill Pedestrian Accident Lawyer
Request a Free Consultation
In Cherry Hill, there are many different types of accidents involving pedestrians. Under Cherry Hill law, pedestrians refer to people who are on foot and not operating a motor vehicle or other motorized device. Accidents happen often in parking lots because motor vehicles drive too fast through parking lots or get distracted. Pedestrian accidents also happen at crosswalks in Cherry Hill often because again, motor vehicles are either not following the rules of the road or are distracted while driving and unfortunately, this leads to people getting injured.
If you have been in a pedestrian accident, you may be entitled to compensation. A Cherry Hill accident lawyer is an essential help in pursuing a claim and recovering damages. A skilled personal injury attorney will be able to fight for your rights during your case.
Why Choose a Pedestrian Accident Lawyer From Grungo?
Due to the grave nature of most pedestrian accidents, recovery is expensive, often requiring ongoing medical care and rehabilitation. Pedestrian accident victims in Cherry Hill need skilled representation by an experienced injury attorney to recover their damages. "Damages" in a personal injury claim are the economic and non-economic consequences of an injury. By working with a lawyer from Grungo Law, you'll have the following advantages:
A powerful local voice behind your Cherry Hill pedestrian accident claim with a reputation for success for our injured clients
A law firm that's secured over $135 million in settlements and jury verdicts for our New Jersey clients
Open and honest communication throughout the process so you're never left in the dark about the progress of your injury claim
A team of skilled investigators to craft a compelling case for your full compensation
An attorney who uses all available tools to maximize your chances for a successful bicycle injury claim in Cherry Hill, including timeless advocacy methods as well as the latest cutting-edge technology
Our resolution-focused attorneys will skillfully negotiate the maximum compensation for your damages in an out-of-court settlement but are also more than ready to argue aggressively for your rights in court should litigation become necessary.
Cherry Hill Pedestrian Regulations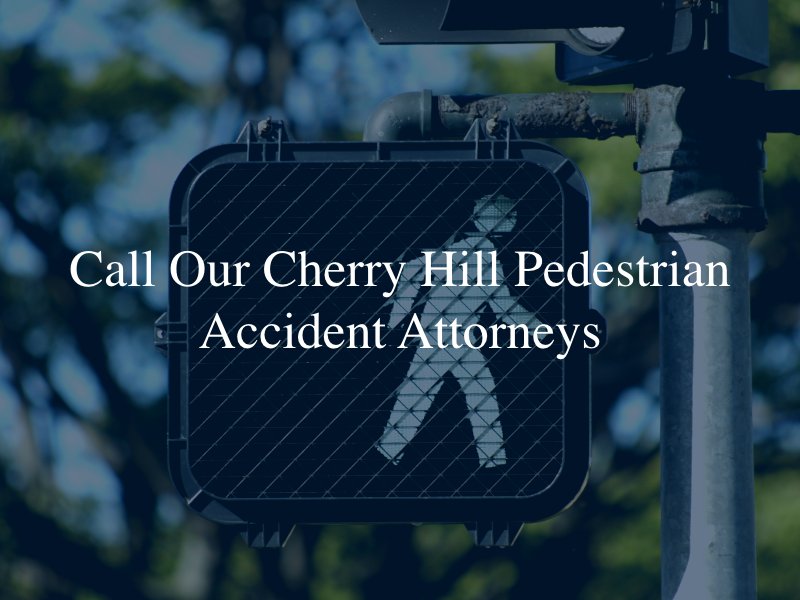 Pedestrians need to share the roads with motor vehicles so pedestrians must cross if there is a crosswalk. Pedestrians, just like vehicles, need to be aware of their surroundings, they need to be reasonable and abide by the rules of the roadways just like anybody else who is in a motor vehicle or bicycle.
Unique Aspects of Pedestrian Accidents
Pedestrian accident scenarios differ from motor vehicle accidents because unfortunately, people who are in pedestrian accidents in Cherry Hill typically are hurt to a greater degree. People who have been driving in motor vehicle accidents have some protection from seatbelts, and airbags, as well as other protections of the car's structure. People who are walking on the streets and are hit by a motor vehicle usually suffer much more significant injury because they have nothing to protect them.
Causes of Pedestrian Accidents In Cherry Hill
Choosing to walk is supposed to be a healthy and earth-friendly option for local transportation, for fitness, or just for fun in the outdoor air, but when an accident occurs to a pedestrian, it's often serious, with grave injuries to the pedestrian. In Cherry Hill and throughout New Jersey, common causes of pedestrian accidents include:
Distracted driving
Intoxicated driving
High traffic congestion
Drivers making left-hand turns while looking right at oncoming traffic and failing to see an approaching pedestrian on the left
Reversing drivers
Absence of crosswalks or unsafe road planning
Failure to yield the right of way
Speeding and aggressive driving
Pedestrians walking after dark
Because pedestrians have even less protection than cyclists—who typically wear protective helmets—they face the highest risks in traffic accidents. When a 4,000-pound vehicle and a pedestrian collide, injuries to the pedestrian may be catastrophic and life-altering. In some cases, the pedestrian dies, in which case the family may achieve justice in a wrongful death claim for damages.
Injuries From Pedestrian Accidents
An unprotected pedestrian commonly suffers severe injuries in traffic-related accidents, requiring painful medical procedures and rehabilitation. Even less serious injuries from which victims fully recover often require expensive medical treatment and missed days of work that cause financial hardship to families. Some injuries seen in Cherry Hill pedestrian accident claims include the following:
Multiple fractures, including of the limbs, pelvis, hips, and ribs
Back injury
Neck injury
Crush injuries with internal organ damage
Broken teeth and facial injuries
After a severe pedestrian accident, there may be a death involved. An experienced wrongful death attorney in Cherry Hill can help you understand your rights and options in New Jersey.
Pedestrian Accidents Vs. Bicycle Accidents
People on bicycles and pedestrians have to follow the rules of the road and they each have their own responsibilities. The difference between bike accidents and pedestrian accidents is – even though a bicyclist may be wearing a helmet – that many times a bicycle is traveling at a much faster speed and when they are knocked from that bicycle they sustain significant injury. Pedestrians also sustain extensive injuries. However, a lot of times they do not have the benefit of the helmet, and they are also not going at the speed of a bicycle.
Whether it is a Cherry Hill pedestrian accident or a bicycle accident, unfortunately, the injuries are usually significant and severe because these individuals do not have the type of protection they would if they were sitting in a motor vehicle. However, if you were in a bicycle accident in the area, please contact a Cherry Hill bicycle accident attorney today.
Types of Cherry Hill Pedestrian Accidents
Traffic accidents involving pedestrians occur in many ways. Drivers in both congested metro areas and rural regions owe a duty to those on the road to remain vigilant to the presence of pedestrians and take reasonable measures to avoid causing injuries. Still, pedestrian deaths in the U.S. are higher than at any time since 1981. Common types of pedestrian accidents in Cherry Hill and the surrounding areas include the following:
Intersection and pedestrian crosswalk accidents
Dart-out accidents (pedestrians crossing in front of oncoming traffic)
Passing accidents (vehicles passing school busses or city busses and hitting disembarking passengers
Vender accidents (pedestrians crossing to a food truck or other vendor)
Rolling stops
Pedestrian accidents occur to pedestrians of all ages, but children are common victims during the school year, especially at bus stops and within school zones.
What to Do After a Pedestrian Accident in Cherry Hill
If you've experienced a serious accident as a pedestrian, you may be able to do little other than wait in place for help to arrive so you don't cause further injury. However, if you can move safely and use your phone—or ask someone else to use it for you—you can preserve critical evidence at the scene to protect your physical and financial future. Use your phone for the following:
Call 911 to report the accident and ask for emergency services
Take photos of your visible injuries and any damage to the vehicle
Take photos of anything relevant to the accident like an intersection, crosswalk, and traffic signal
Add the contact information of the driver and any eyewitnesses
Accept a ride to the hospital with EMS and then undergo a complete evaluation as well as emergency treatment for serious injuries. Ask your doctor for a detailed medical report with your treatment recommendations and prognosis. Keep all medical bills and invoices, ask for a copy of the police report, and call the lawyers at Grungo Law before speaking to the insurance company of the at-fault driver.
Determining Liability in a Pedestrian Accident
Injury victims have the burden of proving the at-fault party liable for their damages. That means pedestrian accident victims in Cherry Hill must prove a driver liable when they were not at fault for the accident. Proving liability requires documenting evidence to prove the following legal points of liability:
The at-fault party had a duty of care to take reasonable measures to prevent injury to pedestrians and others on the roadway
They breached this duty of care by an act of negligence or recklessness
The negligent breach of duty directly caused injury to the pedestrian
The pedestrian suffered significant economic and non-economic damages from the injury
An experienced pedestrian accident in New Jersey will thoroughly investigate all aspects of your pedestrian accident to determine the liable party, document evidence of liability, and send a compelling argument for your compensation to the insurance company of the party at fault for the accident. Only in about five percent of cases does a claim require litigation in court when an insurance company fails to offer an acceptable settlement amount or wrongfully denies the claim. If this is the case in your claim, your pedestrian accident attorney will diligently file the lawsuit petition within the state's statute of limitations.
Statute of Limitations for Pedestrian Accident Claims in New Jersey
Like all states, New Jersey imposes a time limit for filing pedestrian accident and other personal injury claims. The statute of limitations for pedestrian accidents in New Jersey is two years from the date of the accident. This limit serves to protect defendants from the long-term threat of lawsuits and ensures that evidence remains available if the matter comes to court.
The statute of limitations may be tolled (delayed) if an injury appears later or has a delayed diagnosis. In that case, the two-year time limit begins on the date of discovery. Minors injured in pedestrian accidents have two years from their 18th birthday to file a claim for damages.
Damages Available in a Pedestrian Accident
Because pedestrians are vulnerable to serious and even catastrophic injuries, damages in a pedestrian accident can be extensive. Common damages claimed in pedestrian accidents in New Jersey include the following:
Medical expenses
Future medical expenses related to the injury
Reimbursement for lost income 
Future income loss and diminished earning capacity if you've become disabled
Pain and suffering
Sometimes additional non-economic damages apply, like loss of enjoyment of life compensation, disfigurement compensation, loss of consortium, or traumatic limb loss
Ask your attorney in Cherry Hill about the damages you can claim in your unique accident case.
Contact a Cherry Hill Pedestrian Accident Attorney
After a person has received appropriate medical attention – if they have been in a pedestrian accident – they should immediately contact a Cherry Hill pedestrian accident attorney. An experienced Cherry Hill injury attorney can make sure people understand their rights under the law but also their rights with respect to the insurance they may or may not have and they can help investigate the case thoroughly and stand by against the defense's investigation.
A pedestrian accident lawyer in Cherry Hill can also start to protect and preserve evidence by gathering physical evidence at the scene of the accident or incident as well as preserving testimonies from witnesses. Finally, the attorney can talk to insurance companies and other responsible parties to make sure the injured person does not sign any papers or give any statements that may hurt their rights in the future.